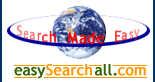 About EasySearchAll.com

EasySearchall.com is a division of EasySearchAll, Inc. a delaware incorprated company which is in business since 2001.

EasySearchall.com allows you to search more than just the Internet. We combine paid, free and deep web listings to bring you results that suit every need.

By focusing on the quality of the search traffic on our network, the functionality of our technology, and by remaining committed to serving the needs of our partners, we have established our platform as one of the leading sources of quality search traffic on the Internet.